ChroZen ASTM D4815 Player
ChroZen ASTM D4815 Player can analyze oxygenates in the form of ethers and alcohols in gasoline and meet regulatory requirements according to ASTM D4815.
Alcohols and ethers in gasoline were analyzed by ChroZen GC/FID with column switching valve and two types of column were used; micro-packed TCEP as a pre-column and PDMS (Dimethylpolysiloxane) non-polar column according to ASTM D4815.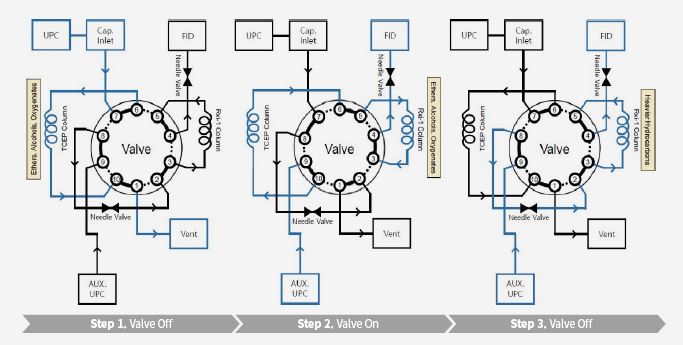 As shown in the result below, all kinds of oxygenates such as MTBE, TAME, DIPE, ETBE and the C1-C4 alcohols are separated clearly. The repeatability in 10 sequence injections satisfies with the regulation indicated in ASTM D4815.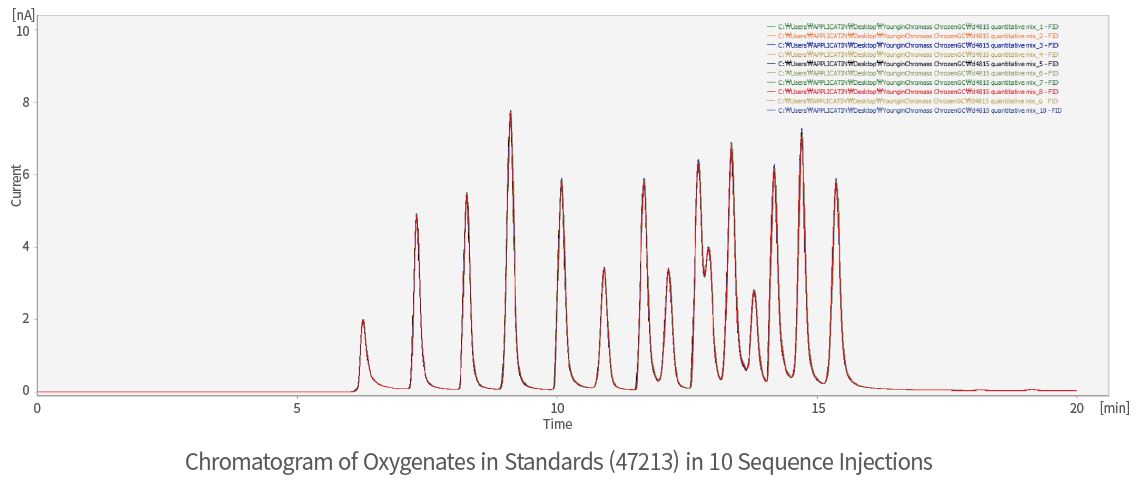 The analysis of oxygenates in gasoline by ChroZen GC with 10 port switching valve guarantees great repeatability and linearity by satisfying the specification of ASTM D4815. The correlation coefficients of calibration curve for all compounds in the calibration standards were determined to greater than 0.999 and the mass % of all components were under 0.1 mass %. Therefore, the ChroZen GC is the optimized system to analyze oxygenates in gasoline with the superior data reliability.
ChroZen ASTM D4815 Player
Total Dream Solution Includes:
1. Smart Hardware Platform
2. Smart Software Control (Chromatography Data System)
3. All Related Consumables and Accessories
4.Columns
-Column 1 : 20% TCEP Micro-Packed Column on 80/100 Chromosorb P (0.56 m, 750 mm, 1/16")
-Column 2 : 100 % Dimethylpolysiloxane Non-Polar Column (30 m, 0.53 mm, 5 μm)