ChroZen ASTM D5580 Player
ChroZen ASTM D5580 Player can analyze aromatic compounds in gasoline and meet regulatory requirements according to ASTM D5580.
ASTM D5580 is the mainly used method for determination of benzene, toluene, ethylbenzene, p/m-xylene, o-xylene, C9 and heavier aromatics in finished gasoline and the accurate backflush time control is required to have the all compounds completely separated in the analysis.
Aromatic compounds in gasoline were analyzed by ChroZen ASTM D5580 Player and two columns were used; micro-packed TCEP as pre-column and PDMS (Dimethylpolysiloxance) non-polar column. There are 2 methods (Methods A and Methods B) described in ASTM D5580 and it is required to choose one of them depending on what to identify.
The calibration mixtures of benzene, toluene, ethylbenzene, o-xylene and 1,2,4-trimethylbenzene were used for calibration curve and the correlation coefficients of all mixture are greater than 0.990 which satisfies ASTM specifications good enough. The calibration curve of benzene is shown as an example.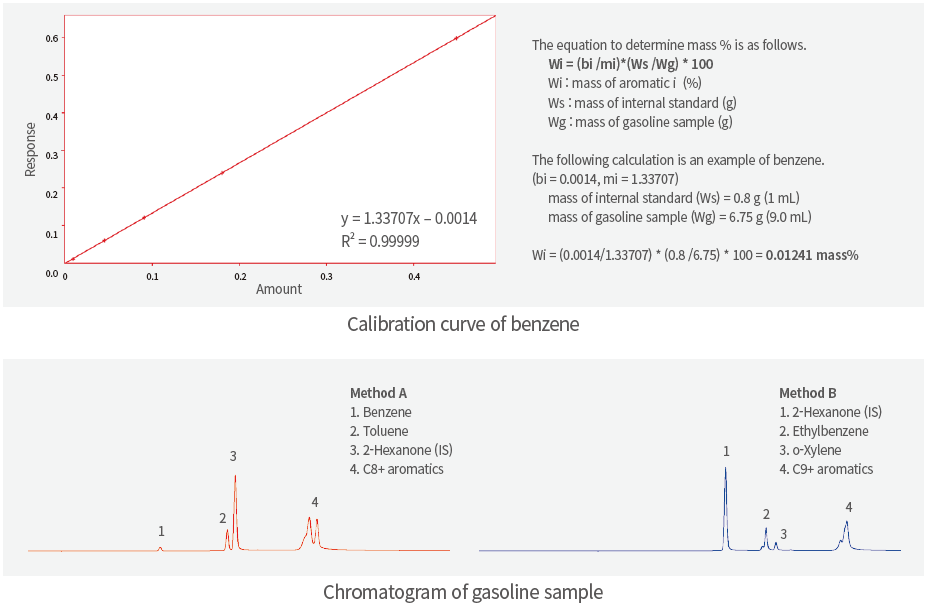 The repeatability in 5 sequences is about 0.37-0.85 %RSD, shown on the Table below.

As the result, mass % of aromatics are resulted 0.012 mass % for benzene, 0.131 mass % for toluene, 0.040 mass % for ethylbenzene, 0.033 mass % for o-xylene, 0.077 mass % for 1,2,4-trimethylbenzene each. It is satisfied with the acceptance criteria of ASTM D5580 as < 0.02 mass % for benzene, < 0.2 mass % for other aromatic compounds.
ChroZen ASTM D5580 player fully satisfies all the requirements indicated in ASTM D5580 with the ways in hardware and solutions by showing the great repeatability and linearity for analysis of aromatic compounds in gasoline. The qualified control report with the satisfied results for ASTM D5580 will be supplied along with the system.