aquapuri 551
aquapuri 551, one of the NEW aquapuri 5 series, produces Type Ⅰ and II water from tap water without a water tank. Thus, the possibility of tank contamination is eliminated.
aquapuri 551 produces Type I and Type II water from tap water. The tank-less integrated WPS saves space and time. You can also experience superior productivity as up to 60 L/h. The intuitive touch LCD enables easy control and check of the water quality and selectivity of water grade. You can also check the filter lifetime by its color change to avoid instrument downtime.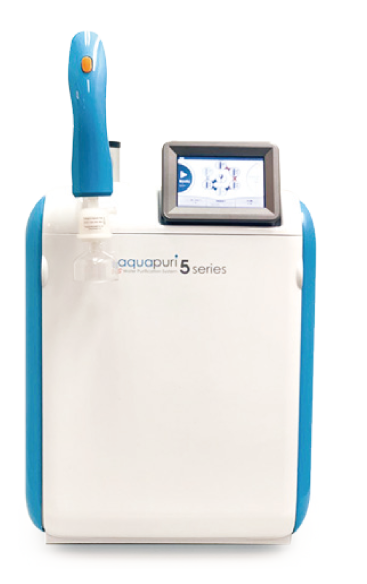 Guaranteed Water Quality
– TOC < 5ppb : Organic carbon removal*
– Endotoxin <0.001 EU/ml : Completed removal of microbial contaminants and for life science analysis **
– Concentration of heavy metals and other inorganic elements <1ppb for trace level analysis*
*UV, VF model, **UF, VF model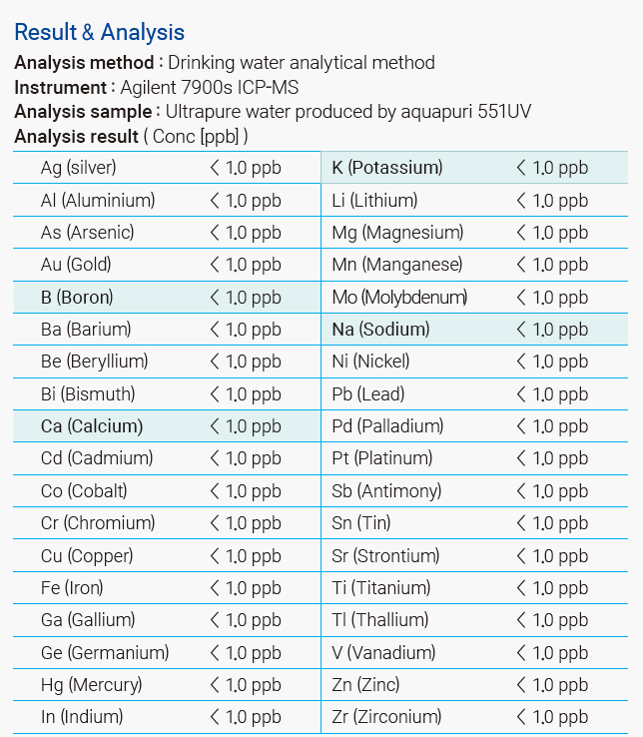 Intuitive LCD UI
– Status check and control at a glance by intuitive UI
– Filter life-time check for pre-maintenance
-Easy to choose water grade (Type Ⅰ or Ⅱ)
Tool-free Maintenance
– Simple use of dispenser
– Tool-free maintenance for easy replacement of filters without any additional tool
– Magnetic door
---
aquaMAX™ Ultra 370 Series
The aquaMAX™ Ultra 370 Series – Ultra Water Purification System produces ultra-pure water in resistivity 18.2 MΩcm and inorganics reduction up to 99.99%(TOC level to <10 ppb). The aquaMAX Ultra can be easily upgraded by adding a UV (Ultraviolet) lamp for low TOC level (< 5ppb), and a UF (Ultrafilter) for pyrogen free (lower than 0.06 Eu/ml).

Features
· High Water Quality
– aquaMAX Ultra produces TypeⅠgrade water in resistivity 18.2㏁·cm and TOC level to < 10 ppb.
– The water quality of aquaMAX Ultra complies with ASTM, CAP, ACS and NCCLS to be used with HPLC,GC, IC, AAS, ICP and ICP – MS.
· Resistivity Measurement
– Measuring the resistivity by automatic temperature compensation for accurate measurement
– Easy to select temp. compensation at your fingertips
· Ultra Pack
– Almost perfect removal of organic materials
– In applications such as HPLC, Cell-transmitter, Pharmacy and Labs
· UF Filter
– Filtering various bacteria and impurities to reduce Pyrogen level to 0.06 Eu/ml.
· UV Filter
– Significantly low TOC level (< 5ppb) for preparation of analytical grade reagents.
· 0.2㎛ Final Filter
– Final filtering of impurities for produced water and prevention of contamination at drain